Very Good Recipes of White Christmas Challenge from Les Recettes Du Panier
White Christmas Challenge : the Winners / Concours Noël Blanc : les lauréats
By Les Recettes Du Panier
01/07/12 08:00
For twice, it will be English first! Today, we're announcing the winners of the "White Christmas Challenge" from VeryGoodRecipes.com! As for the French Challenge on "Edible Gifts", we had a huge number of marvelous contributions. It was very difficult for...
Add to my recipe book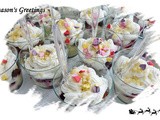 White Christmas : Winter Berry Trifle / Noël Blanc : Trifle aux baies d'hiver
By Les Recettes Du Panier
12/05/11 06:30
For once, it will be English first! Why? Because today, we're introducing a new challenge for VeryGoodRecipes.com! Stéphane invited us, some bloggers around the world, to be the judges of the December Challenge with the theme "White Christmas". So everyone...
Add to my recipe book