Very Good Recipes of Brown Sugar from Living the Gourmet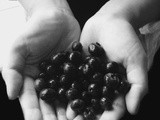 Brown Sugar Blueberry Muffins
By Living the Gourmet
07/29/14 18:15
Preparation: 5 min - Cooking: 25 min I fondly remember the first thing I ever baked was a blueberry cake. We have a little yellow stool that belonged to my great-grand mom, and when I was younger, I would move it into the corner of the kitchen to cook with my mom. One night, I decided to bake...
Add to my recipe book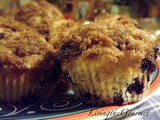 Brown Sugar Crumb Topping Blueberry Muffins
By Living the Gourmet
03/22/12 04:02
Ingredients: 1¾ cups flour – sifted ¼ cup sugar 1 tablespoon baking powder 2 eggs 3 tablespoon butter ¾ cup sour milk – (add 1 tbs. vinegar to milk and let sit for 15 minutes) 1 cup frozen blueberries lightly floured Topping: ¼ cup brown sugar 3 tablespoons...
Add to my recipe book