Very Good Recipes of Mint from Love & other Spices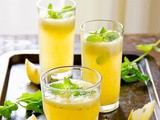 Kiwi Mint Lemonade
By Love & other Spices
08/04/13 10:37
Zespri Arabia did it again, that is to send me another box of kiwis. This time it was a pleasant surprise, in the form golden kiwis. I have never tasted golden kiwis before. Eagerly, I cut open a kiwi,scooped out the golden flesh and started devouring....
Add to my recipe book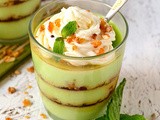 Mint Custard Pudding with Brown Nougat- a custardy treat for mint lovers
By Love & other Spices
11/25/11 11:34
Who doesn't love mint ? I know I do.I still pick the mint flavored gums among-st all the other visually appealing flavors.Now mint in a custard pudding ? You must have tasted it with the addition of chocolate,the chocolate mint pudding,but no,without any...
Add to my recipe book