Very Good Recipes of Curry from Maggie's Country Kitchen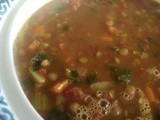 Lentil Curry Soup
By Maggie's Country Kitchen
02/19/11 02:41
I haven't much experience with lentils. They have not landed on my dining room table very often. My lentils have sat in their storage container for some time and I have wondered "What to do" with those lentils. In the mood and really in the "need" for something...
Add to my recipe book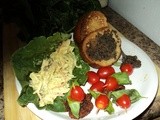 Chorizo, Bruschetta, Tapenade, Chicken Curry Salad
By Maggie's Country Kitchen
07/03/10 01:42
The July 4th holiday is this weekend. The fireworks will be blasting right along with the heat here in the south. It is Picnic week at IHCC! I was searching Mark Bittman recipes one evening and found 101 simple appetizers in 20 minutes on Bittman's minimalist...
Add to my recipe book