Very Good Recipes of Pasta from Maggie's Country Kitchen
Fiery Angel Hair Pasta
By Maggie's Country Kitchen
Subscribe
02/17/11 18:54
I decided to join in over at IHCC this week. This week's theme is "Use Your Noodle". The featured Chef is Giada De Laurentiis. After reading through some of her recipes I decided to prepare Fiery Angle Hair Pasta. The recipe uses chili oil, a little cheese,...
Add to my recipe book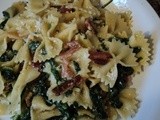 Pasta with Bacon, Spinach and Breadcrumbs
By Maggie's Country Kitchen
Subscribe
07/13/10 02:13
Bacon...Bacon...Bacon can be crispy, chewy, fried, broiled and oh my even deep fried. Bacon can be sweet,smokey, salty and peppery. One thing for sure bacon is one of the palate's pleasures. This week at IHCC we are bringing home the bacon and oh Yes, it's...
Add to my recipe book