Very Good Recipes of Basil from Marmaduke Scarlet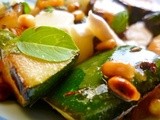 Sweet and sour marinated roasted courgettes with goats' cheese, basil and toasted pine nuts
By Marmaduke Scarlet
09/12/13 23:23
Sweet and sour marinated roasted courgettes with goats' cheese, basil and toasted pine nuts I am always looking for new ways of cooking up an abundance of courgettes and this summer I have loved this salad of sweet and sour marinated roast courgettes, goats'...
Add to my recipe book
Perfect pasta for a heat wave! tomatoes with basil and breadcrumbs
By Marmaduke Scarlet
10/05/11 18:10
Tomatoes with basil and breadcrumbs We're having a heat wave, A tropical heat wave, The temperature's rising, It isn't surprising, She certainly can can-can. Well my anatomy is not likely, as Irving Berlin wrote, likely to make "the mercury jump to ninety-three"...
Add to my recipe book