Very Good Recipes of Steak from Marmaduke Scarlet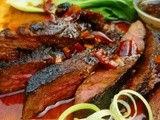 Nigel comes to the rescue again! grilled steak with sweet chilli dipping sauce and chinese greens
By Marmaduke Scarlet
07/05/12 23:24
Grilled steak with sweet chilli dipping sauce and Chinese greens You will have heard that saying about "never look a gift horse in the mouth", well I suspect the clue is in the expression, as being a city girl I have never been given a free horse, gift...
Add to my recipe book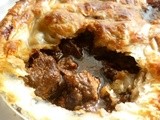 Baby it's cold outside . . . so welcome to a warm pie embrace! a traditional steak and ale pie
By Marmaduke Scarlet
11/15/11 10:58
Steak and ale stew What could be more welcoming on a cold wet autumn night than a beef and ale stew? Actually, a beef and ale pie is even better. I think my love for puff pastry is well-known and the combination of light, buttery and crisp puff pastry with...
Add to my recipe book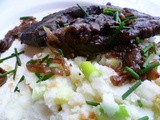 Sussex stewed steak
By Marmaduke Scarlet
09/27/11 13:04
sussex stewed steak A dark sticky stew, the meat a rich mahogany colour and a melt-in-the mouth texture full of beguiling savoury flavours. It is perfect for frugal times since this recipe stands up well with cheaper cuts of beef and is also worth the long...
Add to my recipe book