Very Good Recipes of Banana from Melissa Likes To Eat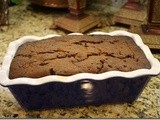 136.4…Chocolate Chip Banana Bread
By Melissa Likes To Eat
Subscribe
04/09/12 00:28
I hate bananas. The smell of them…..the feel of them…just looking at them makes my skin crawl. Now….bananas in baked goods…that's another story. Banana muffins, banana cakes or banana breads….they are all A-Ok in my book! I buy bananas all the time for...
Add to my recipe book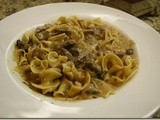 139.2…Banana Bread
By Melissa Likes To Eat
Subscribe
02/26/12 22:20
When I was heating up my leftover Beef Stroganoff last night, I was not excited. My Beef Stroganoff is one of my favorite meals ever but I discovered the other night that it does not freeze well. Well, last night it tasted great! I think I stirred it more...
Add to my recipe book