Very Good Recipes of Beef from Mostly Food and Crafts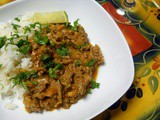 Thai-Style Ground Beef
By Mostly Food and Crafts
07/25/11 13:30
The other day I had defrosted some ground beef and didn't know what to make. I wasn't in the mood for pasta, chili or tacos. That's about how creative I get with ground beef. I did my usual recipe search online expecting the same old results - taco pies...
Add to my recipe book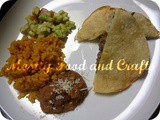 Beef Quesadillas - Kid Friendly Meal
By Mostly Food and Crafts
06/13/11 15:06
This is another recipe from Real Simple. I chose these Beef Quesadillas mainly for the kids, I figured it was a "different kind of hamburger" and I knew they would like that. I served it with Spanish rice , refried beans and an avocado and tomato salad....
Add to my recipe book