Very Good Recipes of Sweet from my little favourites DIY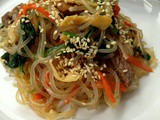 JapChae (Sweet potato starch stir fry with vegetable: 잡채)
By my little favourites DIY
Subscribe
01/31/15 15:06
I have been wanting to try this Korean dish named 'Japchae' since AFF Korea month. But then i can't get this Korean glass noodles or potato starch noodles (Dangmyeon : 당면) until last month i saw it in Giant supermarket. Without thinking twice, when i will...
Add to my recipe book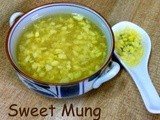 Sweet Mung Bean Soup
By my little favourites DIY
Subscribe
09/30/14 18:29
This is another favourite of Singapore. The sweet mung bean soup. It is soft mung bean in starchy sweet soup. It is a comfort breakfast cum dessert. Serve it pipping hot with yu tiao (fried chinese crullers) will be a very satisfiying. This is water chestnut...
Add to my recipe book