Very Good Recipes of Toasts from Princess Misia Recipes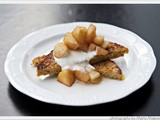 Spelt French Toast
By Princess Misia Recipes
09/25/11 11:39
Weekend breakfasts are my favorite. There is nothing better than sleeping in and then wandering into the kitchen to get creative! I like my weekend breakfast to be a satisfying and delicious feast but I also want it to be wholesome and healthy. These French...
Add to my recipe book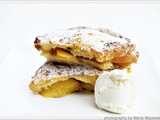 Peach French Toast
By Princess Misia Recipes
08/06/11 11:48
Recently, I had the great pleasure of trying out Sukrin, a new sweetener soon hitting the Belgian market. If you've been reading this blog for a while, you will know that I am a big fan of healthy alternatives to sugar and have been baking with tagatose...
Add to my recipe book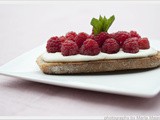 Toast with Cream Cheese & Berries
By Princess Misia Recipes
07/12/11 22:52
Summer offers so many different berries and I am committed to taking a full advantage of it That's why I'm trying to use them whenever and wherever I can. These toasts with cream cheese and berries will make a delicious breakfast for a summer morning or...
Add to my recipe book