Very Good Recipes of Peanut from Restless Chipotle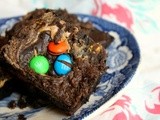 Fudgy m&Ms Brownies with a Peanut Butter Swirl
By Restless Chipotle
08/04/14 19:25
Preparation: 10 min - Cooking: 30 min These M&Ms Brownies are chewy, fudgy, chocolaty, and they have a river of salty peanut butter coiling through all of that rich, chocolate goodness. You know what that means? It means they are irresistible — don't even try, y'all. I made a big batch of M&Ms...
Add to my recipe book
Peanut Butter Swirl Bars
By Restless Chipotle
10/02/12 21:07
Yes, I know. Here it is – another chocolate peanut butter combination. Well, yeah. It's good! You know those moist, chewy brownies that I am famous for? Well imagine those swirled with peanut butter. That's all. No booze, extra chocolate, … Continue reading...
Add to my recipe book