Very Good Recipes of No Bake from Slow Cooking Kitchen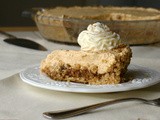 No-Bake Pecan Pumpkin Cheesecake
By Slow Cooking Kitchen
Subscribe
09/30/12 19:19
Enjoy all your favorite Fall flavors in one delicious and extremely simple no-bake pie recipe. Prep Time: 5 minutes Total Time: 4 hours Level of Difficulty: Easy For the Crust ... 1 1/2 cups finely chopped Graham Cracker crumbs 1/3 cup white sugar 6 tablespoons...
Add to my recipe book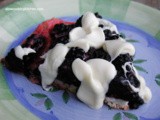 No-Bake Blackberry Pie Recipe
By Slow Cooking Kitchen
Subscribe
03/27/12 23:09
White chocolate atop shortbread crust adds the perfect touch to this no bake blackberry pie. 2 cups fresh wild Oregon blackberries 1 shortbread 'Ready' pie crust 1 box 'blackberry FUSION' Jell-O 3 squares 'Almond Bark' Preheat a medium sized saucepan on...
Add to my recipe book