Very Good Recipes of Pasta from Stitch and Bear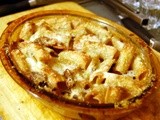 Simon Hopkinson's Porcini & Pancetta Pasta Bake
By Stitch and Bear
07/19/11 00:09
Simon Hopkinson has accumulated much respect over his years in the cookery industry, but he maintains a low profile. One of his early cookbooks, Roast Chicken and Other Stories, was voted the most useful cookbook of all time in 2005, causing its sales to...
Add to my recipe book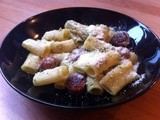 Pasta with Italian Sausage
By Stitch and Bear
07/16/11 23:37
When it comes to pasta, I frequently prefer recipes with little or no sauce. Olive oil (or butter) with a few flavours is how I like to roll. A few staple ingredients, along with some good quality dried pasta, can form the basis of a kingly meal. Supper...
Add to my recipe book