Very Good Recipes of Fajitas from Tales of a Garlic and Onion Lover
One Pan Baked Chicken Fajitas
By Tales of a Garlic and Onion Lover
Subscribe
07/11/12 18:52
We know that we have blogged a chicken fajita recipe before and boy are they good. We love that recipe but the problem is that it is time consuming and leaves a lot of dirty dishes to clean up. Sometimes we want tasty fajitas without much effort. For those...
Add to my recipe book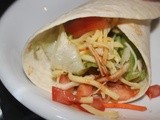 Chicken Fajitas
By Tales of a Garlic and Onion Lover
Subscribe
03/24/12 14:08
We never really thought about making fajitas at home until we had them out at a restaurant and realized they are no harder than burritos to put together. We stuck with just chicken, marinated in a lime juice mixture. Added grilled onions, pepper, and all...
Add to my recipe book