Very Good Recipes of Tomatoes from Tales of a Garlic and Onion Lover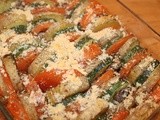 Vegetable Tian
By Tales of a Garlic and Onion Lover
05/19/12 12:00
This is a very easy side dish and a great way to make your vegetables a bit more interesting. Serves 3-4 people (you can add or take away vegetables to make the serving fit you) 2 Tbs olive oil 1 large onion, sliced 2 cloves garlic, minced 1-2 potatoes,...
Add to my recipe book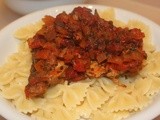 Stove Top Pork Chops with Tomatoes and Onions
By Tales of a Garlic and Onion Lover
04/20/12 18:25
We don't really have a good name for this recipe because itis for the most part made up. We found a similar recipe which called for spicysausage and pork, but that was just too much meat for us. We made some adjustmentsand this is what we got... For two...
Add to my recipe book