Very Good Recipes of Carrot from The Freshman Cook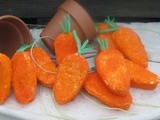 Mr. McGregor's Marshmallow Carrots
By The Freshman Cook
04/15/14 19:26
These Marshmallow Carrots are not the ones that Peter Rabbit was munching on in Mr. McGregor's garden, but I think you will like them. You start with homemade marshmallow, cut out some carrots with a cookie cutter, add some orange sanding sugar, add some...
Add to my recipe book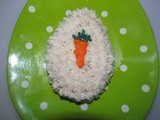 Easter Egg Carrot Cake~Holiday Recipe Club
By The Freshman Cook
04/05/12 08:42
It's time again for Holiday Recipe Club! This is only my second post with the club, and so far, it is really fun!! Each month we are given three ingredients to choose from to make a recipe. We must use at least one of the holiday related ingredients. Our...
Add to my recipe book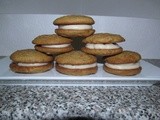 Improv Challenge~Carrot Cake Whoopie Pies
By The Freshman Cook
02/16/12 15:00
Today is the day for the Improv Cooking Challenge! This is such a fun challenge, I just love participating! This month our ingredients are carrots and ginger. I immediately thought of carrot cake, but I was looking for something a little smaller, like cookies....
Add to my recipe book