Very Good Recipes of Simple from The Freshman Cook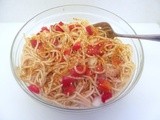 Super Simple Spaghetti Salad
By The Freshman Cook
09/19/12 15:30
I heard the weather man say that Autumn will officially be hear on Saturday at around 7:00 am PST. Well, finally! So, I wanted to hurry up and share this little, super simple, summer side dish that I have made for years, Spaghetti Salad. You will love this...
Add to my recipe book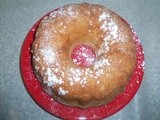 Improv Challenge~Simple Lemon Pound Cake
By The Freshman Cook
01/19/12 13:00
This months Improv Cooking Challenge is upon us again!! This month our two products to use are Lemon and Sour Cream. A lot of different recipes went thru my head. I thought about dips, certainly appropriate for all the football parties going on everywhere....
Add to my recipe book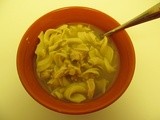 Souper Simple Soup
By The Freshman Cook
01/15/12 04:59
My husband loves soup. I, on the other hand, can take it or leave it. For me, it is usually too warm here to enjoy it. But, we have lived in cold climates in the past, and we both grew up in a cold climate, so maybe that's why when it's winter, or even...
Add to my recipe book