Very Good Recipes of Cake from the Fuss Free chef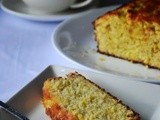 Lemon Yogurt Cake with Lemon Glaze
By the Fuss Free chef
12/13/12 07:15
This is a no-frills, comfy cake that's perfect for a lazy afternoon tea, as a simple dessert or to bring to an informal gathering of friends or family. Totally understated. It doesn't have a wow factor that will bowl over your guests, rather, it is a light...
Add to my recipe book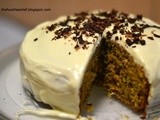 Carrot Cake with Cream Cheese Frosting
By the Fuss Free chef
11/23/12 07:14
If you have been following my blog for a while, you would know that I am no baker. I'm better at cooking dishes than baking cakes and pastries. They say baking is a science. It works on precise measurements and temperature. Tamper with it, and you will...
Add to my recipe book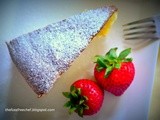 Durian Yogurt Cake
By the Fuss Free chef
08/09/12 03:09
Since we are in the midst of a glorious durian season, it's the best time to try some durian based recipes. My BIL's mother once made us a chiffon durian cake that was simply out-of-this world! I have often thought of asking her to teach me how to make...
Add to my recipe book