Very Good Recipes of Muffin from The Hedonista - Recipes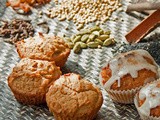 Garam Masala Muffins
By The Hedonista - Recipes
04/25/12 16:12
I was invited to go and have a chat with some lovely people on Dubai Eye Radio today (about food blogs), and realised with an hour before leaving time that I probably shouldn't turn up empty handed. So, I grabbed a ramshackle bunch of ingredients out of...
Add to my recipe book
Gluten Free Banana Date and Hazelnut muffins
By The Hedonista - Recipes
10/02/11 07:06
Finding a gluten free flour that works well is like finding the holy grail for coeliacs. Only five years ago, they were only available in specialist stores, and varied in quality and texture - producing pizza bases that tasted like soggy cardboard, muffins...
Add to my recipe book