Very Good Recipes of Prawn from The Hedonista - Recipes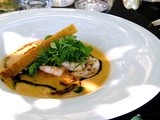 Gazpacio of red capsicum with prawns
By The Hedonista - Recipes
08/29/12 17:08
It's hard not to get inspired in Provence. Sometimes I replicate what I eat to the best of my ability, sometimes I ask the chef for the recipe, and others, I take pieces of inspiration from the dish and create something a little more me. This is the first...
Add to my recipe book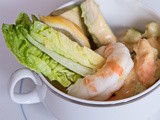 Retro love - Prawn Cocktail
By The Hedonista - Recipes
01/05/12 08:53
Some matches never get old. Tomatoes and basil, apples and cinnamon, fish and chips with lemon, red wine and cheese. Cold prawns with 1970s cocktail sauce. Mmmmm awesome.... Forthcoming - a particularly old-school, but not tired recipe. You might have a...
Add to my recipe book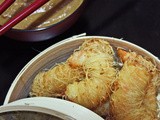 Crunchy prawns with korma dipping sauce
By The Hedonista - Recipes
05/10/11 17:37
Every once in a while, there is a dish from a restaurant that sticks with me. One evening, about 8 years ago in Melbourne, I dined with my husband at Circa at 'The Prince' in St Kilda. It was fairly soon after it had opened, and it was still well and truly...
Add to my recipe book