Very Good Recipes of Corn from The Steaming Pot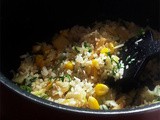 Pineapple Sweet Corn Rice
By The Steaming Pot
01/19/15 02:30
One-pot rice dish with the zing of ginger and chilies, the richness of corn and the freshness of pineapple. The post Pineapple Sweet Corn Rice appeared first on The Steaming Pot.
Add to my recipe book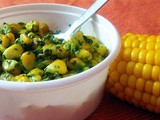 Corn with Spinach and Cheese
By The Steaming Pot
12/14/12 19:40
Corn on the cob is so good boiled, I mostly have it without taking it through any elaborate "treatment" routine. A little salt, a little chilli powder, a dash of lime juice – rub it on and bite directly off the cob – that's my usual mode of having boiled...
Add to my recipe book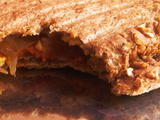 Tomato Baby Corn Grilled Sandwich
By The Steaming Pot
08/16/11 06:37
I love grilled sandwiches. They have become something of a staple for my weekend breakfast. The sandwich filling varies depending on my mood and the contents of my fridge/pantry – mashed potatoes, paneer slices, the vegetable side-dish from last night's...
Add to my recipe book