Very Good Recipes of Corn from The Steaming Pot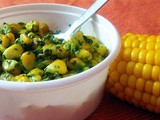 Corn with Spinach and Cheese
By The Steaming Pot
12/14/12 19:40
Corn on the cob is so good boiled, I mostly have it without taking it through any elaborate "treatment" routine. A little salt, a little chilli powder, a dash of lime juice – rub it on and bite directly off the cob – that's my usual mode of having boiled...
Add to my recipe book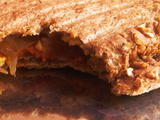 Tomato Baby Corn Grilled Sandwich
By The Steaming Pot
08/16/11 06:37
I love grilled sandwiches. They have become something of a staple for my weekend breakfast. The sandwich filling varies depending on my mood and the contents of my fridge/pantry – mashed potatoes, paneer slices, the vegetable side-dish from last night's...
Add to my recipe book