Very Good Recipes of Curry from Vanevalentine FOOD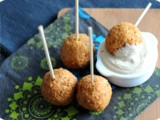 Falafel served with a Coconut Curry Dip
By Vanevalentine FOOD
10/23/12 15:17
This is a very quick snack idea for vegetarians. Falafel is a very complete and substantial side dish and since it stays good for quite some time, you can make a bunch at once and keep some for later occasions. By itself, falafel may seem a bit too dry,...
Add to my recipe book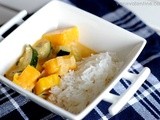 Squash & Zucchini Curry
By Vanevalentine FOOD
07/06/12 19:38
Time for one more recipe before you start your weekend…this one with a Thai touch! This has been my meal already twice this week: Squash and Zucchini curry. The squash I'm using for this recipe is also known a winter or butternut squash. It has an orange...
Add to my recipe book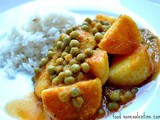 Potato and Green Peas Curry
By Vanevalentine FOOD
07/19/11 15:57
Some weeks ago I went to this Indian restaurant called Aahaar in Antwerp, wrote a short review about them, find it here. One of my favorite dishes out of the buffet was the potato curry aka Aloo curry. It's a very spicy dish, but I still wanted to learn...
Add to my recipe book