Very Good Recipes of Paris from Vanevalentine FOOD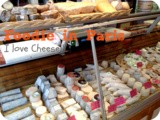 Foodie in Paris: Cheese, cheese, cheese
By Vanevalentine FOOD
08/31/12 15:40
This summer I had the opportunity of doing a little trip to Paris. I had been there already once, but this time I was prepared to gather a couple of foodie tips for you. Montmartre is my favorite area in Paris. This part of the city is full of hills, long...
Add to my recipe book
Foodie in Paris: Lunch @ l´Ami Georges
By Vanevalentine FOOD
07/03/12 19:43
A couple of days ago I went on a short trip to Paris and took this opportunity to note down some foodie tips for you So, first thing I want to share with you: Lunch! You're in Paris and you can't really prepare lunch at the hotel, so you got no option but...
Add to my recipe book