Very Good Recipes of Pizza from Vanevalentine FOOD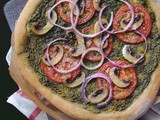 (Vegan) Pesto Pizza – Meatless Monday Recipe
By Vanevalentine FOOD
Subscribe
08/25/14 20:56
Even though I wasn't a big cheese-eater before going vegan, I did appreciate cheese integrated on specific foods, read: pizza... Continue reading » The post (Vegan) Pesto Pizza – Meatless Monday Recipe appeared first on vanevalentine FOOD.
Add to my recipe book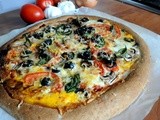 Veggie Spelt Pizza: Meatless Monday Recipe
By Vanevalentine FOOD
Subscribe
07/16/12 22:47
Hey there! As promised, here is my first official Meatless Monday recipe Meatless Monday is an international movement encouraging people to avoid eating meat at least one day a week (Mondays) to improve their own health and that of the planet. A lot of...
Add to my recipe book