Very Good Recipes of Rhubarb from Vanevalentine FOOD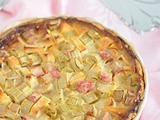 Apple Rhubarb Custard Pie (Gluten and Sugar Free)
By Vanevalentine FOOD
Subscribe
06/11/13 21:23
I go almost every 2 days to a little vegetable and fruit market close to home. I love shopping there... Continue reading » The post Apple Rhubarb Custard Pie (Gluten and Sugar Free) appeared first on vanevalentine FOOD.
Add to my recipe book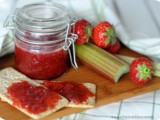 Easy self-made Rhubarb and Strawberry Jam
By Vanevalentine FOOD
Subscribe
09/05/12 16:52
It's time for my sweet post of the week! The past days I've been experimenting a lot with rhubarb. I've been intrigued by this ingredient for quite some time and now I finally got to play with it a bit. Even though rhubarb is mainly used in desserts in...
Add to my recipe book