Very Good Recipes of Gluten Free from Wasabi Honey Bee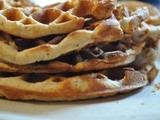 Gluten Free Waffles, a simple recipe
By Wasabi Honey Bee
02/09/14 05:18
Waffles are incredible. What an amazing invention!!! But truth be told, regular waffles leave me feeling over-stuffed in a not so pleasant way. The following recipe I made for some friends who are currently eating gluten-free, and I think I just might like...
Add to my recipe book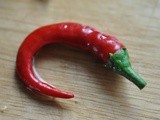 Dinner of Broccoli Soup, Vegan and Gluten-Free
By Wasabi Honey Bee
09/27/11 04:02
Everyone has had a bit of a cold lately . . . The weather has been taking an Autumnish tone . . . So in respect of sniffling noses and colder days, there has been a fair amount of soup consumed around here . . . The first soup was a fiery tortilla soup...
Add to my recipe book