Very Good Recipes of Moroccan from Wishing for Saturday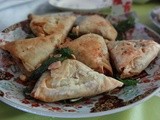 Moroccan Holiday - Part 1
By Wishing for Saturday
Subscribe
06/10/12 05:25
Pastilla For two weeks I have been eating, sleeping and driving around between various cities in Morocco & Spain. My head is starting to spin from all the travel, the new sights, sounds and smells of all the places we visited, but above all of these new...
Add to my recipe book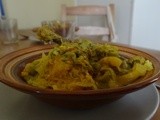 Moroccan Chicken and Olives
By Wishing for Saturday
Subscribe
03/26/12 03:25
So our lovely little heat wave has ended, but I am still thinking about warm places. So in honour of that heat, and my upcoming trip to Morocco, I made one of my favourites. My boyfriend loves this dish, and says I make it almost as well as his mother does....
Add to my recipe book