Very Good Recipes of Okra from Youtoocancookindianfoodrecipes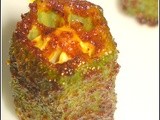 Spicy Okra Fry / Spicy Lady's Finger Fry
By Youtoocancookindianfoodrecipes
Subscribe
05/23/12 10:24
Spicy Okra Fry is an instant spicy side-dish that I make very often for Sambar Rice or Curd Rice and its my husband's favorite. It is very easy to make and can be made in minutes. Instead of the regular Okra stir fry/Vendakkai porriyal (click here for recipe)...
Add to my recipe book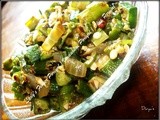 Lady's Finger Poriyal / Vendakkai Poriyal / Okra Poriyal
By Youtoocancookindianfoodrecipes
Subscribe
04/14/12 20:29
Okra Poriyal is a tasty South Indian recipe that goes well with rice. I love this recipe and make this very often at home. This is a simple side-dish which is very easy to make but has certain criteria to be followed, because of the sticky nature of the...
Add to my recipe book