Very Good Recipes of Popcorn from Youtoocancookindianfoodrecipes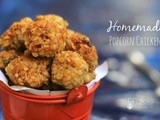 Popcorn Chicken | Crispy Chicken Fry Using Oats | Homemade Popcorn Chicken Recipe
By Youtoocancookindianfoodrecipes
11/22/14 22:53
Chicken recipes have always been my favorite, specially the starters and fried ones. Chicken nuggets, Chicken 65, KFC popcorn chicken always top my favorite list. (I do have a longer favorite list :P) I know that its not a healthy habit to munch on them...
Add to my recipe book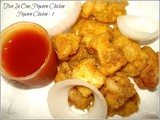 Two In One Popcorn Chicken
By Youtoocancookindianfoodrecipes
05/22/12 12:30
This Popcorn chicken is the crunchiest and crispiest chicken fry I have ever tried. Chicken is my favorite and being inspired by the KFC chicken am trying various recipes similar to it. This one is another version of my successful KFC Chicken fry (Click...
Add to my recipe book