Very Good Recipes of Shakes from Youtoocancookindianfoodrecipes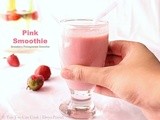 Pink Smoothie | Strawberry Pomegranate Smoothie | Strawberry Pomegranate Milk Shake
By Youtoocancookindianfoodrecipes
03/11/13 18:23
Strawberries are a delight and a perfect fruit for flavoring any recipe, be it desserts or any smoothies they top the favorite list. I love smoothies as replacements for breakfast and so try playing with fruits, and on one certain day, by chance or luck...
Add to my recipe book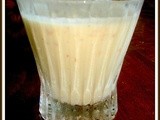 Yummy Almond Banana Milk Shake / Badam Milk Shake
By Youtoocancookindianfoodrecipes
04/17/12 13:10
Badam/Almond Milk shake is one of my favorite drink and always holds the top place in my favorite list!! Its too hot here in Chennai and I would love to have something chill and yummy!! The banana used gives the milk shake a smooth texture and enhances...
Add to my recipe book