Very Good Recipes of Meal from Bring back the bliss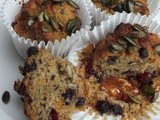 Whole Meal muffins
By Bring back the bliss
06/08/12 18:48
I have been trying out recipes using flour mixes that do not contain tapioca or corn. These muffins were made with urid lentil flour, buckwheat flour and brown rice flour. The first two I ground myself, the third I bought as flour. I also included quinoa....
Add to my recipe book
Chicken curry - two gf convenience meals
By Bring back the bliss
06/05/12 20:34
I wrenched my foot badly a couple of weeks ago and haven't been able to go grocery shopping. I think we had got down to one lemon and some frozen peas. I walked to the local garage which has a small Spar convenience store attached (only just made it home!)...
Add to my recipe book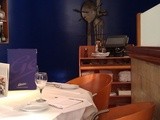 A delicious meal at Getti, - and why i won't order gf pizza or pasta
By Bring back the bliss
01/24/12 11:36
A quick trip to look at some furniture for the new flat - a desk that converts to a bed. Didn't order it, but did have a delicious meal at Getti, 42 Marylebone High St London. I ordered the cod with tomato and chili sauce with green beans. Usually when...
Add to my recipe book