Very Good Recipes of Bean from feasting at home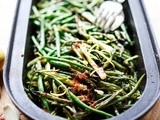 Charred Green Beans and Scallions with Bagna Cauda
By feasting at home
03/06/14 20:48
It often happens. When planning for catering events, I tend to err on the side of way too much food, rather than the nightmarish alternative of ending up short, which, if truth be told, did actually happen once. But since that horrible day, many years ago...
Add to my recipe book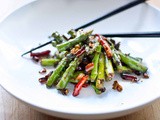 Szechuan Asparagus with Chili, Garlic, Black bean Sauce
By feasting at home
04/12/13 09:59
Wok-seared asparagus with garlic, ginger, dried chilies, fermented black beans and roasted peanuts is a fast, easy vegan side dish that will spice up your dinner. Served with rice and crispy tofu (or...
Add to my recipe book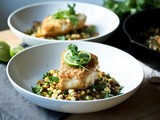 Fava Bean and Fresh Corn Succotash
By feasting at home
08/21/12 17:20
Summer Succotash with Coriander Crusted Sea Bass If you have never tried fava beans, an easy way to incorporate them into your dinner is to make a fresh summer succotash. Succotash is an...
Add to my recipe book