Very Good Recipes of Lemon from feasting at home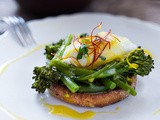 Broccolini Benedict w/ Meyer Lemon Hollandaise
By feasting at home
02/26/15 16:50
You strengthen people as you surround them with your loving thoughts. Sanaya Roman I'm always on the lookout for a good version of Eggs Benedict without the ham. This one has a delicious stack of steamed broccolini topped with a pillowy egg and Meyer Lemon...
Add to my recipe book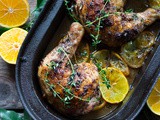 Sumac Chicken with Meyer Lemons
By feasting at home
02/21/15 04:43
Roast Chicken infused with Meyer lemons and Sumac brings me back home to my dad's way of cooking -simple and rustic with Middle Eastern flavors. Plump, juicy, and flavorful, this chicken is delicious served alongside simple basmati rice and a leafy green...
Add to my recipe book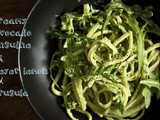 Creamy Avocado Linguine with Meyer Lemon and Arugula
By feasting at home
01/20/13 20:41
OK, I admit, this sounds a little strange. But after you try one bite, I think you'll be pleasantly surprised. I was a little skeptical myself. But the bright zesty flavors of Meyer lemon kept me...
Add to my recipe book