Very Good Recipes of Corn from feasting at home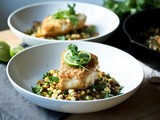 Fava Bean and Fresh Corn Succotash
By feasting at home
08/21/12 17:20
Summer Succotash with Coriander Crusted Sea Bass If you have never tried fava beans, an easy way to incorporate them into your dinner is to make a fresh summer succotash. Succotash is an...
Add to my recipe book
Grilled Corn with Chipotle Lime Butter & Cilantro
By feasting at home
06/26/12 19:17
Grilled corn on the cob couldn't be simpler. There are numerous ways to cook fresh corn, and I think I have tried most of them, but my favorite way, which happens to be the easiest way....is...
Add to my recipe book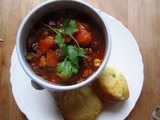 Chorizo and Corn Chili with Ancho and Chocolate served with Sweet Scallion Corn Muffins
By feasting at home
10/30/11 17:32
During the past few weeks the weather has turned cold. I started wearing socks to bed and dreaming about Le Creusets. WE finally broke down and turned the heater on .......
Add to my recipe book