Very Good Recipes of Lime from feasting at home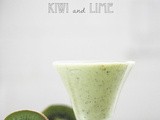 Avocado Smoothie with Kiwi and Lime
By feasting at home
02/09/13 00:07
In my previous life, when my friend Tonia and I had just started Mizuna Restaurant, we decided to put smoothies on the menu. Delicious vegan concoctions, frosty, creamy and all made to order....
Add to my recipe book
Grilled Corn with Chipotle Lime Butter & Cilantro
By feasting at home
06/26/12 19:17
Grilled corn on the cob couldn't be simpler. There are numerous ways to cook fresh corn, and I think I have tried most of them, but my favorite way, which happens to be the easiest way....is...
Add to my recipe book