Very Good Recipes of Chorizo from feasting at home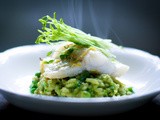 Spring Pea Risotto with Halibut, Spanish Chorizo and Mint
By feasting at home
03/30/12 08:44
Preparing for a catering event several years ago, I had to make fresh Spring Pea Bruschetta as an appetizer for 200 people, using fresh shucked peas. For a moment, just try to imagine how...
Add to my recipe book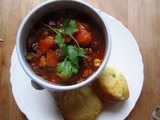 Chorizo and Corn Chili with Ancho and Chocolate served with Sweet Scallion Corn Muffins
By feasting at home
10/30/11 17:32
During the past few weeks the weather has turned cold. I started wearing socks to bed and dreaming about Le Creusets. WE finally broke down and turned the heater on .......
Add to my recipe book