Very Good Recipes of Green Bean from Five Little Chefs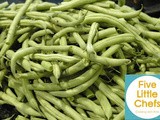 Preserving the Harvest: Blanching and Freezing Green Beans
By Five Little Chefs
08/03/12 08:00
We have discovered it is fun to not only learn to cook, but to also learn where foods come from and how to preserve them for later. We have dehydrated apricots, made jam and froze apricots for...
Add to my recipe book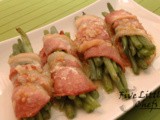 Bacon-Wrapped Green Bean Bundles
By Five Little Chefs
04/13/12 08:00
Little Chef D did a wonderful job cutting off the ends of the beans. She used a steak knife because that is all she is able to use safely. She HAD to cut both ends off! While she was cutting she said, "Excellent, excellent I love it!" This was our first...
Add to my recipe book