Very Good Recipes of Wheat from Frieda Loves Bread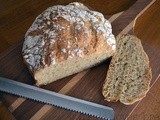 Easy No Knead Bread: Multigrain Wheat
By Frieda Loves Bread
Subscribe
04/25/12 14:00
I love the taste of wheat bread, especially if it is light and has a touch of honey. This bread has an added bonus of using a cracked nine or ten grain cereal that adds another dimension of flavor and texture. Can it be made as a "no knead" bread? Yes,...
Add to my recipe book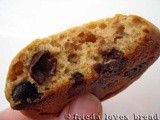 Soft White Wheat: a Baker's Best Keep Secret
By Frieda Loves Bread
Subscribe
01/16/12 14:00
Take a good look at this Applesauce Chocolate Chip cookie. Now take a close look at this one. Notice any difference? There's not much difference, EXCEPT... I used whole wheat flour in the first cookie. You can't see, smell or taste any difference. Well,...
Add to my recipe book