Very Good Recipes of Chili from Gourmet Food Garden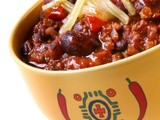 Easy Made Chili
By Gourmet Food Garden
07/14/12 04:16
You will need: 2 pounds ground beef chuck 1 pound bulk Italian sausage 3 (15 ounce) cans chili beans, drained 1 (15 ounce) can chili beans in spicy sauce 2 (28 ounce) cans diced tomatoes with juice 1 (6 ounce) can tomato paste 1 large yellow onion, chopped...
Add to my recipe book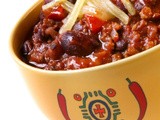 Fall Is Chili Time
By Gourmet Food Garden
01/12/12 00:57
Fall is a time that evokes memories of delicious food…at least for me it is. The nippy temperature drop always evokes memories of certain special foods that haven't been eaten in what seems like years. What's even worse is that I usually don't realize how...
Add to my recipe book