Very Good Recipes of Pie from Gourmet Food Garden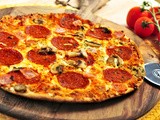 Healthy Late Night Eating: Meals, Snacks … And Pizza Pie
By Gourmet Food Garden
Subscribe
02/04/13 16:36
Pizza routinely is panned as being an unhealthy food choice. The fact is that healthy variations of the beloved pizza pie represent ideal healthy late night meal and snack alternatives. Before turning attention to specific types of late night pizza selections,...
Add to my recipe book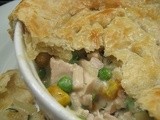 Chicken Pot Pie Recipe
By Gourmet Food Garden
Subscribe
08/17/12 02:53
You will need: 1 pound skinless, boneless chicken breast halves – cubed 1 cup sliced carrots 1 cup frozen green peas 1/2 cup sliced celery 1/3 cup butter 1/3 cup chopped onion 1/3 cup all-purpose flour 1/2 teaspoon salt 1/4 teaspoon black pepper 1/4 teaspoon...
Add to my recipe book