Very Good Recipes of Salad from Gourmet Food Garden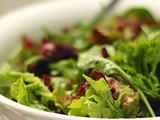 How To Make Salad Interesting
By Gourmet Food Garden
02/01/13 16:21
Salad gets a bad rep. It is widely considered the most boring of meals. Whenever we get an Indian takeaway in our house we always refer the sad plastic bag of onions and limp looking lettuce as "throwing salad" because in the entire history of everything...
Add to my recipe book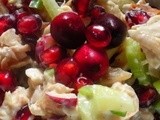 Christmas Chicken Salad
By Gourmet Food Garden
03/24/12 05:11
You will need: 4 cups cubed, cooked chicken meat (this is about 4 medium sized chicken breasts) 1 cup mayonnaise 1 teaspoon paprika 1 1/2 cups dried cranberries 1 cup chopped celery 2 green onions, chopped 1/2 cup minced green bell pepper 1 cup chopped...
Add to my recipe book