Very Good Recipes of Bread from Jasey's Crazy Daisy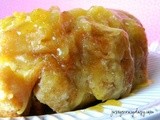 Orange Monkey Bread
By Jasey's Crazy Daisy
11/13/13 21:30
My kids love orange rolls and while I appreciate their love for such a simple treat, sometimes I actually want to dress things up a bit. You know, actually make it look like I've spent hours preparing something extraordinary, when in reality I've been chasing...
Add to my recipe book
Banana Oatmeal Bread
By Jasey's Crazy Daisy
04/07/12 03:05
The sun is starting to shine a little more and more each day, trees are budding, and bulbs are spouting. Hooray! Spring is here. I cannot wait for warm weather and sunny afternoons with my boys, even if it means breaking out the shorts.... or dare I say...
Add to my recipe book