Very Good Recipes of Peanut from Jasey's Crazy Daisy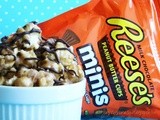 Peanut Butter Cup Popcorn
By Jasey's Crazy Daisy
01/22/13 23:11
Its been one of those mornings, the kind where my brain forgot to get out of bed. The kind where I absent mindedly poured the corn syrup over the popcorn instead of into the saucepan. The kind where I mixed the peanut butter in with the sugars before melting...
Add to my recipe book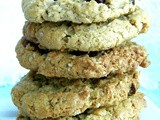 Flourless Peanut Butter Chocolate Chunk Oatmeal Cookies
By Jasey's Crazy Daisy
09/24/12 15:12
Sometimes you need a cookie, or five, for breakfast. Or at least I do anyways. For the most part, I am okay with my new diet restrictions - other than it seems like I eat all the time and there is this crazy dark void of cookies in my life. But it is nearly...
Add to my recipe book