Very Good Recipes of Pomegranate from Junglefrog Cooking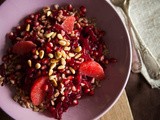 Spelt salad with pomegranate and beetroot
By Junglefrog Cooking
Subscribe
11/14/12 17:10
Sometimes you come up with a combination that is just so good! This fabulous salad with pomegranate and beetroot is one such thing. I had bought a couple of pomegranates at the market earlier that week and while they do keep for a while they seem to shrink...
Add to my recipe book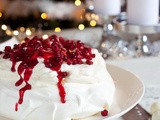 Pavlova with pomegranate and cranberry sauce
By Junglefrog Cooking
Subscribe
12/11/11 17:44
You did not think I would get rid of my cranberry sauce so easily now did you? It's actually quite funny how you sometimes start baking and then have leftovers that turn out to be made into something far superior then your first recipe. I had one of those...
Add to my recipe book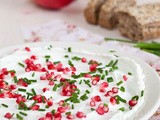 Creamy goatcheese with pomegranate
By Junglefrog Cooking
Subscribe
11/23/11 14:29
Wow… if you are reading this, that actually means that it worked! You might have wondered where I went to the last couple of days but I have been very busy behind the scenes with changing over all my websites (and there are six in total) from one host to...
Add to my recipe book