Very Good Recipes of Quiche from Kitchen in the Yard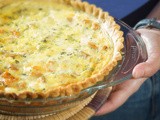 Quiche with Roasted Sweet Potatoes, Sage, Red Onion, and Goat Cheese
By Kitchen in the Yard
Subscribe
11/14/11 21:13
Photo: Dan Nystedt I am such a huge fan of quiche. It was on the regular menu in my house when I was a kid; maybe that's where it started. And then in college, one of my favorite spots was a little restaurant in Hyde Park, somewhere around 53rd St. and...
Add to my recipe book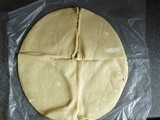 Pre-Baking Quiche/Pie Crust: How-To
By Kitchen in the Yard
Subscribe
11/14/11 21:05
Photo 1: Rolled-out pastry doughNew Photography ... Eeesh, it's rough when your photographer friend who's been taking the photos posted on your blog has a life and can't be available at all hours of the day and night for taking beautiful photos at the random...
Add to my recipe book