Very Good Recipes of Banana from Les Recettes Du Panier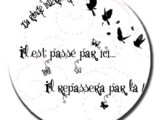 Carrés à la banane et au chocolat / Banana and Chocolate Squares
By Les Recettes Du Panier
09/30/12 10:00
J'ai la chance de participer à la nouvelle formule de la Ronde Interblog. Elle ne compte désormais plus qu'une centaine de participants tirés au sort parmis les prétendants. Je suis entourée de Stephcuisine et de Chrystel. La première est sensée choisir...
Add to my recipe book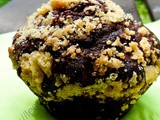 Muffins chocolatés à la banane et au streusel aux noix de pécan / Chocolated Muffin with Banana and Pecan Streusel
By Les Recettes Du Panier
05/14/12 06:00
Je me devais de participer au concours des 1 an du blog Novice en cuisine de Marion! Je profite de cette période d'acalmie de paniers (que je devrai normalement retrouver mardi ) pour vous publier une recette sur le thème " "Quand les fruits rencontrent...
Add to my recipe book
Flan aux pamplemousses, oranges sanguines, bananes et streusel / Grapefruit, Blood Orange, Banana and Streusel Flan
By Les Recettes Du Panier
05/10/12 21:48
Cette recette est inspirée du dernier Régal, numéro 46, avril-mai 2012, magazine culinaire qu'il m'arrive d'acheter (de plus en plus régulièrement ). L'idée de mettre des agrumes dans un flan ne m'avait pas encore traversée l'esprit. C'est Christine Ferber,...
Add to my recipe book