Very Good Recipes of Flan from Les Recettes Du Panier
Flan aux pamplemousses, oranges sanguines, bananes et streusel / Grapefruit, Blood Orange, Banana and Streusel Flan
By Les Recettes Du Panier
05/10/12 21:48
Cette recette est inspirée du dernier Régal, numéro 46, avril-mai 2012, magazine culinaire qu'il m'arrive d'acheter (de plus en plus régulièrement ). L'idée de mettre des agrumes dans un flan ne m'avait pas encore traversée l'esprit. C'est Christine Ferber,...
Add to my recipe book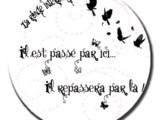 Flan "Michalak" / Vanilla Flan
By Les Recettes Du Panier
04/29/12 10:00
Encore une Ronde InterBlog qui se termine! Et une fois de plus, j'ai réussi à ne pas manquer les délais d'inscriptions. Comme la plupart du temps, cette ronde m'a permis de découvrir de nouveaux blogs que je n'avais pas l'habitude de fréquenter. Ainsi ,...
Add to my recipe book
Flamusse aux pommes / Apple Flan
By Les Recettes Du Panier
02/26/12 07:00
Première ronde de l'année 2012 ou encore 25ième de la série! Et vous remarquerez que j'y reste fidèle! Le sort m'a fait découvrir le sympathique site de Cuisine Gourmande. Après quelques hésitations au regard des nombreuses recettes alléchantes, mon choix...
Add to my recipe book