Very Good Recipes of Chocolate from Nelly's Cupcakes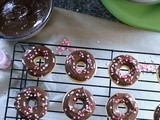 Vanilla & Chocolate Baked Doughnuts
By Nelly's Cupcakes
02/26/14 09:00
I finally did it. I bought a doughnut pan. I've been contemplating it for a while, one has been in my amazon basket since Christmas. Finally during a late night trip to Sainsburys, I saw one, it was reduced, I couldn't not buy it. I decided to stay basic...
Add to my recipe book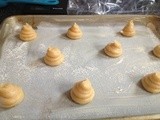 Caramelised White Chocolate Profiteroles
By Nelly's Cupcakes
03/22/13 09:00
In March we celebrated our 7 year anniversary. We are not married but always celebrate the day we met, it is handy that it was at my friends wedding so she always reminds me when the exact date was. Rather than go out and spend lots of money we decided...
Add to my recipe book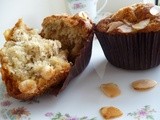 Banana, white chocolate and almond muffins
By Nelly's Cupcakes
04/20/12 09:00
Ok so I am going to admit something that will sound unusual considering the title of this post but; I don't like bananas. Let me explain, Peeling a fresh yellow banana and biting into it makes me want to gag. The texture, the smell, the stringy bits......
Add to my recipe book