Very Good Recipes of Tarts from Nelly's Cupcakes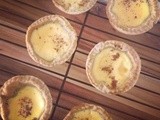 Great British Bake Off - Custard Tarts
By Nelly's Cupcakes
09/16/13 08:00
Well last weeks Great British Bake Off post never happened did it? To be honest I was thoroughly underwhelmed by last week. This was not the fault of the contestants but more the weird choice of bakes. Not a single trifle really stood out to me (plus I...
Add to my recipe book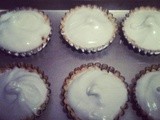 Mini Lemon Meringue Tarts
By Nelly's Cupcakes
02/02/12 09:00
On Sunday I decided to make a pie for our Sunday Lunch (post to come next Sunday). I also wanted to make something yummy for dessert as a treat. I use egg yolks in my pastry so had a few spare egg whites knocking about that needed to be used up... It didn't...
Add to my recipe book